As followers on Twitter may be aware, we have a large number of systems out for various Christmas markets around the country at the moment. Some of which are using 100v line horn systems to cover wide areas as public address/emergency evacuation systems but also to carry background music.

The nature and physics of the traditional 100v horn dictates that the musical bandwidth of the horn speaker is limited and although there are better 2-way horn speakers now available which stand up to the challenge of a full-range sounding speaker, budgets dictated otherwise.

So to provide a system more suited to background music in conjunction with the horn speaker system, I incorporated several 100v or "constant voltage" 2 way speakers into the system design. These would be located closer to head height than the horn system, in areas around the market where people congregate such as near Gluehwein, coffee or Hot-Dog stalls.

The speakers we used were older (and yes, quite cheap) 6.5" speakers that had done their time and already provided a good financial return. The speaker terminals were protected to a degree from the elements using a cut-out PVC junction box glued to the cabinet using Sikaflex adhesive/sealant which was a substance I use in repairing the motorhome.

By selecting a low watt tapping, we were able to integrate them into the horns located nearby. The horns provide the mid cut or "bark" with the 2 way speakers adding bass and some treble fizz. Now it's not hi-fi by any means but the combination is certainly easier to listen to than horn speakers alone.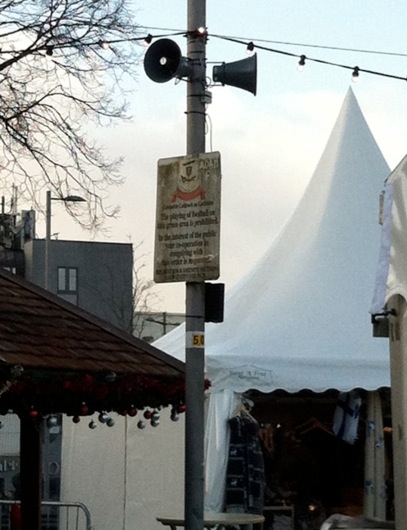 6.5" 2 way 100v speaker rigged below a pair of traditional 100v horns. The 6.5" speakers aren't hi-fi but make background music at this Christmas Market sound a bit better around hot-dog and mulled-wine stands.
It's not easy being the support act. Generally you get the bare minimum of stage space and soundcheck is whatever time is left before the house crew wants to go for food and so on. So after a bit of thought over the past six months, I think I've come up with a few ways that a support act can maximise it's sound check time and get the best out of its alotted stage time.

1. Type out a channel list and draw a stage plan with power and monitor requirements. Word and Excel are fine for this. Try and keep it all on one page. Now send it to the promoter, the band you are supporting and the house sound crew or the PA provider.

2. Be on time. That means too early.

3. Think about providing some of the following items to make the sound crew's life easier. They will like you for this and may be inclined to go that little bit further to make sure your set goes well.

Latin Percussion Mic Claws

for the Kick, snare top and maybe also for your under-mic-ed hats and under-mic-ed overheads with some Sennheiser 604's or Shure B98s for your toms. Less mic stands means less stuff to move on and off stage. This means that when you build your kit off-stage, it's mic'ed and ready to be plugged up onstage. Even better, also provide a working, labelled pre-made mic loom for the drum kit. A sound crew will love you for this.

Z mic bars

or the

Audix CabGrabber

for your combos. Again less mic stands to be schlepped onstage.

If you use a lot of DI's for a keyboard or hard-disc set-up consider bringing a rack-mounted DI rack with some XLR cable pre-loomed and labelled. There are some reasonable quality units that don't cost the earth. They may not sound the absolute greatest, but the goal here is to get as much time onstage as you can. Better still, get a small sub-mixer to mix your multiple synth channels down to 2 channels

4. Try and have your gear in a manner that facilitates easy movement. That means the combos should be on wheels and keyboard/midi/laptop setups should be easily pre-wired offstage ready to power up and connect once you are onstage.

We've put together some packages that combine some or all of the above items. If you are interested in discussing your requirements, feel free to
get in touch
.







I blogged a while back on some things to consider when
choosing a PA company
, which centred around the level of advice and production values which professional audio hire companies can bring to your event. As the margins on ticketed gigs and other events fall, professional audio hire companies are bringing more to the table than simply providing audio systems and crew.

Outside of my work with Alex Fernie Audio Ltd., I've done a lot of consultancy in a technical management role for events requiring the integration of the various technical aspects to a production. The Irish National Lottery sponsored
Skyfest
is one such event requiring the integration of large format PA systems, 100v line horn systems, RF and microwave transmission, large-scale screens and live performance with a fireworks display and the live TV broadcast of a lottery draw. I've also provided stage management services to festival stages, co-ordinating multiple act changeovers whilst ensuring the backstage, performance and viewing areas are safe for artists, crew and audience alike. These are skills I also bring by default when providing a system for a client.

Many professional audio hire companies are now also willing to share the burden of audio production management for festival organisers. Alex Fernie Audio provided systems on a large number of weekend street festivals in 2011 where we not only provided the PA systems for the various outdoor and indoor stages, but also provided and co-ordinated the backline and instrument hire for the client. For the past two years we have provided a similar service to the Kilkenny Arts Festival, taking care of both the PA and the backline/instrument riders for the over 30 acts involved over the ten-day festival.

Some, but not all, professional sound companies in Ireland offer these "added extras" as part of their festival rental packages. So if you are someone who is at the early part of planning for your 2012 events, it may be worth considering what your PA company of choice can bring extra to the table.