Alex Fernie Audio Ltd is a leading Irish specialist in the design, supply and implementation of professional sound reinforcement systems. Located near Galway City, we have a client base that includes major Irish arts festivals, international touring theatre companies, local promoters and major event management companies.
Due to increased business in 2010 and expected contracts in 2011, we are currently seeking a senior sound engineer to work on a full-time contract basis alongside freelance staff.
The ideal candidate will:
Have a minimum of 10 years of verifiable employment as a sound engineer.
Have a minimum of 8 years of verifiable and varied employment in live sound reinforcement, with a majority of this experience catering to audiences of greater than 1000 people
Have an excellent and verifiable track record in providing high quality sound for audiences and artists alike
Be comfortable in a variety of roles at FOH, monitors or as system engineer.
Be willing and capable of performing minor repairs and/or trouble-shooting in the warehouse or on site if required
Be fully conversant with and have actively used at least three of the following digital consoles: Digidesign Venue/Profile/SC48, Yamaha PM5D/M7CL/LS9, Digico SD7/8/9, Soundcraft Vi/Si series, Midas XL/Pro series.
Be fully familiar with a variety of analogue equipment from Midas, Allen & Heath, KT, DBX, Yamaha and Lexicon
Have configured, rigged, tuned and actively used a modern high performance line-array system by at least two of the following manufacturers: Nexo, d&b, l'Acoustics, Meyer, Martin-Audio, EV.
Take an active interest in current and innovative developments in professional audio technology.
Be familiar with software-based analysis programmes from Rational Acoustics or Metric-Halo
Also, you will be expected to:
Have your own transport and a full, clean European driving licence
Have a customer- and/or artist-orientated attitude and focus to all work
Be a motivated and dynamic individual with a good sense of humour.
Be willing and able to provide advice and quotations to customers in due course and help the company secure sales
Be physically fit and capable of long hours and manual handling duties
Be capable of organizing and delegating duties to a team when on-site
Be aware of all relevant safety legislation and best practice when working on-site
Be able to supply own required PPE and essential personal audio tools and equipment
There is no closing date for applications, though we would hope to fill the vacancy before May 2011.
The successful candidate will be required to work 96 hours per month, to a maximum of 1152 hours in a 12-month period. Hours not worked in a given month will be carried forward to subsequent months. Hours worked overtime in a given month will be carried forward to subsequent months or paid at a rate commensurate with salary. A minimum fixed salary will be paid monthly regardless of hours worked.
The successful candidate will be expected to be available for work at all times during the period of contract unless otherwise informed or negotiated with the employer.
Gross salary scale will range from €24,000 to €28,000 per annum, depending on experience.
Interested candidates should send a detailed and relevant CV with reference, together with salary expectations, to info(AT)alexfernie.com
Galway theatre company, Druid, have recently completed the purchase of a Nexo PS10R2 touring system from Alex Fernie Audio Ltd. The purchase, which includes Yamaha/Nexo NXAMPs, a Yamaha LS9-16 with MY16AT card as well as cable looms and line systems from Van Damme, will form the backbone of their touring audio system.
Having being a regular hirer of PS10 and Nexo systems from Alex Fernie Audio Ltd since 2005, it made sense for the company to invest in the new PS10R2. Druid Theatre are currently en route to the US, where "The Cripple of Inishmaan" will tour for the next five months. 2011 promises to be a busy one again for the theatre company, with new productions in the pipeline for the second half of the year.
The combination of the Yamaha LS9-16 with MY16AT card and an Echo Audio AudioFire12 will allow the company to run the sound for shows from a Apple Mac running Qlab Pro via MIDI as they have been doing for the past 2 years. The AudioFire12 is a 12in/12out firewire interface.
The purchase also includes a range of flightcases for amplifiers, consoles, cable and speakers.
Druid have also purchased some EV ZX1's, amplification and microphones for their redeveloped theatre space which, when not in use by Druid, is available to hire for theatre shows, as a rehearsal space or as a venue for press-calls or media receptions.

www.druidtheatre.com
www.nexo-sa.com
www.yamahaproaudio.com
www.echoaudio.com
Car roof loudspeaker

Roof mount horn and amplifier


If it's election time, hustings, advertising this simple system will get your message across. Plug into the cigar lighter of your vehicle and fit he horn loudspeaker to your roof and you have a powerful promotional tool. When you are finished, unplug, remove the roof speaker and your vehicle is back to normal.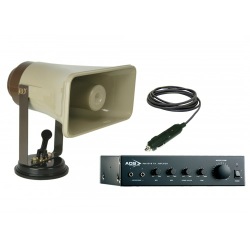 Buy for €340 (inc VAT)
Hire for €30 per day (inc VAT) or €120 per week.
Call us on 091 789848.