After 3 years of constant service, my Logic System LM15 monitors have been retired. Although a great box, they weren't universally liked by visiting engineers and the fact that they were a passive cabinet didn't always make them very rider friendly. After much searching and listening and costing, I decided on the MB4 monitor made by SSE audio. Though by todays standards they are rather big and heavy, they sound superb and with processing via a KT 9348, require little or no EQ.
Finally, the last purchase for the next 12 months is a Digidesign Venue SC48. Again having costed, used and listened to virtually every digital board in that size, the SC48 was a no brainer. It's a full 48 in 16 out console. It's quick, it's stable, it's great fun to use and it integrates seamlessly with the other Venue surfaces. The plug-ins that come with the board are very good and the effects are a serious step up from any other board in its price range.
Added to all this, integrates with Protools LE via firewire offering a virtual soundcheck/record function for 18 fully assignable tracks. First gig tomorrow so more on this soon.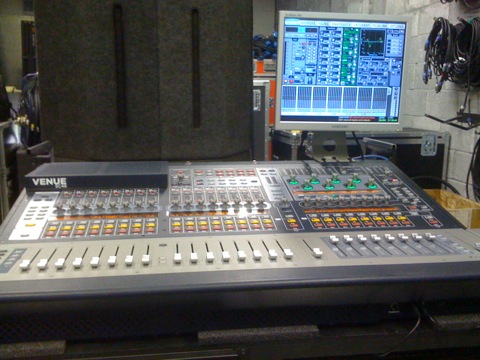 There's an interesting topic currently over at prosoundweb called the
next big thing
. Basically, what's next for the sound industry. I haven't chimed in myself yet, but there was one poster who suggested that the future could be bleak for small regional providers, given that the cost of equipment is falling and the quality generally improving in the MI sector. This will increase growth of very small, hobby-ist providers.
Whilst small providers with one small system will always be able to provide budget solutions for small local events, the financial outlay for truly professional systems will keep it a relatively small but highly competitive market. The challenge for regional providers is to be able to match these small operators in price but exceed them enormously in terms of sound quality and service. Small event managers need to be aware of the potential public liability exposure in the event of equipment failure causing injury to artists and audience.
On another note, having said Yes to Lisbon, it's good to reflect on how the EU has helped the Irish audio industry compete in Europe. The combination of free trade and the Euro has increased the number of potential suppliers available to Irish-based sound companies. Where once Alex Fernie Audio imported most equipment from the UK, now we can add both German and French suppliers to the many UK and Irish suppliers for equipment and consumables. The major challenge facing Irish sound companies at present is competing with the lower labour costs in Northern Ireland and the UK. More on that another time.
As to the website, I've added a bit to the media side of things with information on some of the causes we support.
Finally, I'm waiting patiently on an LS9 to add the hire stock. In the short term this will be out constantly with the New De Dannann, but will be available for one off jobs also. More new products are being added throughout October. More on this soon.